My desire is to help you S.E.E. & harvest Spirit Guidance. Sow Love!!!

 My intention is to share through words, art and music, my journey to spiritual activism. I trace back to a 'still small voice, whispering "Question Everything."  Be inspired to document and demonstrate your power of Spirit too.  Don't Cost You Nothing.
Then after Baptism (To Da River) I began to Ask Question(s) like: 
Why do you go to church? Music? Emotions? The Word?
What about the Trinity: Father? Son? Holy Spirit?
Why all the focus on the Son? What about the Father? The Holy Spirit?
Why the preacher? What about worshipping God in Spirit?
So in the late 60's & 70's two favorite songs were:
After personal experiences and studying numerous teachings: protestant, catholic, Christian,Transcendental Meditation, Judaism, Baha'i, Buddha, Hindu, Islam & others, I was led to play these songs over and over in my life. This music became my way to 'Stay In Constant Remembrance of God.'
I prayed, I grew, I felt Redeemed. 
I internalized these songs. I became inspired by many other songs that touch my soul & lifts my spirit. They help me stay in constant remembrance of God (All-Good).  Eventually, I stepped out on faith.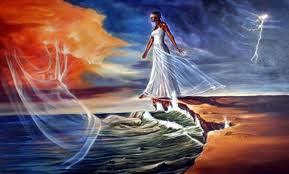 ...To BE Continued.
Categories: Spiritual Discovery